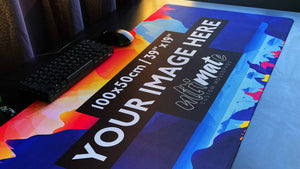 Complete guide to creating your custom mouse pad
Want a Custom Gaming Mouse Pad, but don't know where to start?
Look no further than this A - Z guide to creating your dream mouse pad with Ultimate
We will cover...
1. WHY GO CUSTOM MOUSE PAD?
Discussing the perks and benefits of a custom mouse pad, and get to know team UCM

2. Customizing the mouse pad
Covering mouse pad size, thickness, and features
3. Choosing the best image
Covering image selection, image design and best practices
4. Ordering, shipping & support
Discussing how to order, image approvals and shipping
WHY CHOOSE A CUSTOM MOUSE PAD?
Perks and benefits
Having a large custom mouse pad or custom desk mat is a great addition to any office space or gaming setup. Not only do you get to create it yourself from scratch, you can personalize it from hundreds of different options for a fully unique desk mat.
Accommodate all your peripherals on one space, and enjoy better mouse performance from our performance topper and non slip base.
Why buy with UlTIMATE
We offer the complete 'sandbox' experience. You can design a custom large mouse pad from scratch, that fits your exact preferences. Any size, any design, and all the features to choose from. Our team is dedicated to you 7 days a week, to support you through your whole journey with us. And if thats not enough, just checkout our over 200+ positive reviews from customer all over the world.
STEP ONE
CUSTOMIZING YOUR MOUSE PAD
Tips when selecting a mouse pad
We find its best to do this first. Once you have a mouse pad size selected, it makes it easier to either find or create the best image to print on it.

A few things to keep in mind:
• Make sure that the pad size you want, will fit on your desk, and accommodate your keyboard and mouse comfortably. If you have a larger keyboard, perhaps order a larger size so you don't run out of room

• Going to be travelling with your mouse pad? We recommend only choosing stitched edges as your edging option, and a smaller pad size that's not to heavy to carry around


MOUSE PAD SIZE
We currently offer SIX mouse pad sizes for you to choose from. They are:
• SQUARE: 30 x 25 cm / 11.8 x 9.8 inch
• LARGE: 70 x 30 cm / 27.5 x 11.8 inch
• XL: 80 x 30 cm / 31.5 x 11.8 inch
• MEGA: 90 x 40 cm / 35.5 x 15.8 inch
• ULTIMATE: 100 x 50 cm / 39.3 x 19.6 inch
• SUPREME: 120 x 60 cm / 47 x 24 inch

Some sizes are not available for certain products.
Our most popular sizes BY FAR are MEGA and ULTIMATE pads. If your want a specific size that is not listed above, send us a message and we can make it for you!

MOUSE PAD THICKNESS
We currently offer THREE mouse pad thicknesses to choose from:
• 2mm (.07in) - Our cheapest and lightest option
• 3mm (.11in) - Our bestseller
• 4mm (.15n) - Most supportive

If you intend to be spending long hours with your mousepad, then we recommend the thickest option. This means your wrists will be fully supported and comfortable for hours on end. If you're not worried then, perhaps stick with the standard thickness, which is 3mm.

IMPORTANT
We are here to help!
No design skills, or stuck for ideas?
We have a team of expert designers to help make your ideas become reality.
Send us any image, ideas, logo's along with your mouse pad order - and we will contact you with a range of options for you to choose from. No matter the image quality, or how broad your idea might be - 95% of the time we can create a design you will love. And if we cant - we will refund you, no questions asked! All design work is FREE with every order, and you can suggest as many edits as you like until you are happy with an outcome
Design guarantee

YOUR MOUSE PAD IS YOUR CANVAS. GO CRAZY!
Express what you love! Our large mouse pads allow you to showcase the things you love. Make sitting at your desk, just that little bit more enjoyable - or make one as a unique gift for someone
The mousepad design
USE THE INTERNET
Browse through the internet to get ideas and inspiration. If you find something you like, make sure to save it in its highest quality. If you are concerned about how it will print on your pad, please contact us for assistance. We can use nearly any quality and image, with a few exceptions. See our terms for more info
use a personal image
Some of our customers use our pads to print and showcase a memorable moment in their life, or as a personal gift to a friend of family member. Ideas include images of their family, pets, holiday snapshots or important events. Even better, upload all your favorite images with your mouse pad order, and we will create a amazing collage.
Design it yourself
Why not design your mouse pad from scratch, and make it look exactly how you imagine it. We can accept a range of file types, such as .Ps, .Ai and .PDF. For best results, read on further for canvas dimensions and bleed areas so you can create your design to scale.
Theme ideas
You could make a: anime mouse pad, topographic mouse pad, pet mouse pad, gaming mouse pad, collage mouse pad, color matched mouse pad, anime desk mat, anime playmat, landscape mouse pad, logo mouse pad, streamers mouse pad. The options are endless!
Image specifications (For designers)
If you are going to design and edit your own image, for best results please set your canvas to the correct size below.

• SQUARE: 3425 x 2950 px
• LARGE: 8267 x 3543 px
• XL: 9448 x 3543 px
• MEGA: 10629 x 4724 px
• ULTIMATE: 11811 x 5905 px
• SUPREME: 14173 x 7086 px

Canvas resolution: 300dpi recommended
Bleed and stitching margins: 180px. for best results, keep important elements away from the edges by 180px
File type: We can accept files of any type and size.

ADVANCED: Keep in mind where your keyboard and mouse will sit, in relation to your design. Move certain elements so they're not covered by your peripherals.
Image placement ideas
Single image
The most popular layout. Simple, easy and looks amazing!
Two images
A great way to display your top two images!
Multi image/collage
Great for our biggest deskmats, which have plenty of room to showcase lots of different imagery.
Streamers layout
A popular layout for displaying your team logo & related imagery to showcase your stream, team name or a playmat/card break mat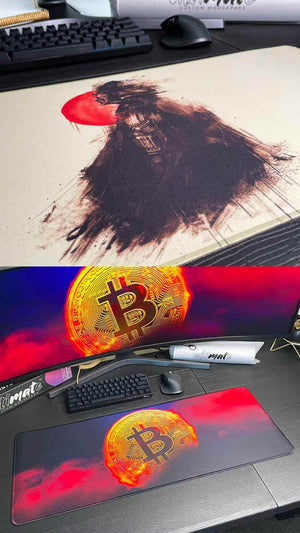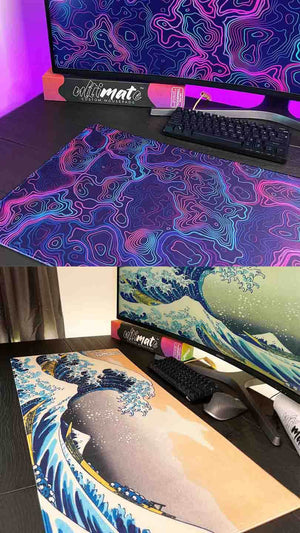 STEP THREE
How to order, shipping & support
How to order
Ordering is easy!
1. Navigate to the product page of the mouse pad, playmat or product you want.
2. Below the pricing, you will see a list of customization options. Select the options you prefer.
3. Above the 'buy now' button, you will see the 'UPLOAD IMAGE HERE' button. This is where you can upload all your images, and add any order notes for our designers that will help us craft the perfect mouse pad for you.
4. Finally, hit the 'BUY NOW' or 'ADD TO CART' button, and follow the steps to complete your order


IMPORTANT: After your order
Once we receive your order, our design team will go ahead and create your mouse pad design using the media you uploaded, taking into account any instructions you have provided

Once done, we will email you a DESIGN DRAFT. This is a preview of what your mouse pad will look like when printed. You can either approve for printing, or suggest further edits

Common design adjustments we may make:
•Checking image quality, and scaling the image to fit onto your chosen mouse pad size
• Making any changes to the design that you have requested - from minor details to full re-designs
• Checking color quality, and suggesting changes if we think there may be errors in quality and clarity when printed.


Dispatch and shipping
Production & dispatch timeframe (all products): 2 DAYS (excl Sunday)

Shipping duration:
Standard Shipping: 12 - 20 days
Express shipping: 8 - 12 days

Shipping locations: We ship to nearly every country. Please see our shipping policy for further details


Our quality guarantee
All orders are covered by our Ultimate Quality Guarantee Policy, for your shopping peace of mind
• Damaged or unsatisfactory product: We want to make sure you receive the best quality custom mouse pad, custom desk mat or product possible. Due to the production process for custom products, sometimes mistakes can occur. We will reprint or refund - no questions asked!

• Shipping delays or lost shipment: We understand that there can sometimes be issues during the shipping process. If your order is lost in transit - we will reprint and reship free of charge. Shipping delays unfortunately is something we cannot control, but we will do our very best to make sure you are properly updated on the status of your order.



We hope this helped!
Once you receive your custom gaming mouse pads- it's yours to enjoy!

We would love to hear your feedback!
Please review your ultimatemousepads.com experience by lodging a review on our website - or sharing your creation on social media. Don't forget to tag us!
Facebook: @ultimatecustommousepads
Instagram: @ultimatemousepads
Tik Tok: @ultimatemousepads
Remember, we offer a full reprint or refund policy if you are unsatisfied with your order!
So what are you waiting for! Get started on your #ultimatemousepad!